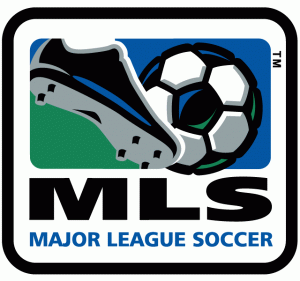 Hey reader today I will be talking about Professional Soccer.  In this I will tell you scores, highlights, and results of Professional Soccer. Some of the teams I will tell you about are The Columbus Crew and LA Galaxy. Those teams are in a league called MLS. I will also talk about teams that are not in that league. The league these teams are in is called Barclays Premier League. For example Real Madrid, Barcelona, and Manchester United.  You will hear me talk about more of the teams not in MLS because the teams that are not in that league are from out of the country and are more skilled at soccer.
First off I will tell you some of the teams that are in the Barclays Premier League. Real Madrid: finished 6-0-4, Barcelona: finished 10-2-1, Mancester United: finished 4-3-1. Now I will tell you about some of the main highlights of this season. Real Madrid: Cristiano Ronaldo does bicycle kick in to the goal against Levante.
Next is Barcelona. Neymar Jr. rainbows over opponent to get a goal. This goal was against Real Madrid.
Finally I will show you a highlight from Machester United. Pogba goes for a goal against Stoke city and bends the ball from behind the 18 yard line in to the goal.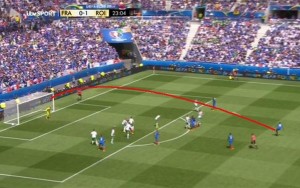 Now I will talk about the teams in the MSL. For example The Columbus Crew, and LA Galaxy. First off is there records… The Columbus Crews finished 6-0-5 and they didn't have as good as a season as last year. Now is LA Galaxy. They also didn't do so good this year but their record was 2-7-3. One more teams record I want to talk about that I didn't monition is The New York Red Bulls. This team had surprisingly no losses! Their record was 6-7-0.
Finally I will show you some highlights of these teams season just like I did with the teams that were not in the MSL league.
The Columbus Crew is first.
Tony Tchani shot a very impressive goal from above the 18 yard line and knocked it in. This goal was almost a bicycle kick.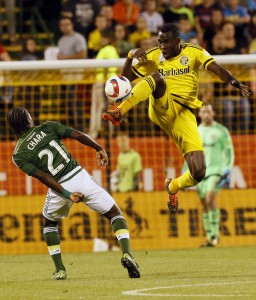 From the LA Galaxy Landon Donovan takes a corner against Real Salt Lake and bends it in… Truthfully I think this is one of the best highlights of this season I have seen yet…
Overall all these teams I have talked about and more have been successful this season. Now we will have to wait until the Fifa World Cup to see who will win it all and bring home the big trophy…
Images from:
http://www.ronaldo7.net/gallery/game/15_03_2015/real-madrid-levante.html
https://youtu.be/J6FN22bbzzd4
http://www.telegraph.co.uk/football/2016/06/26/france-v-republic-of-ireland-euro-2016-live/
http://www.dispatch.com/content/slideshows/timbers-2-crew-1-.html
MLSmultiplex.com
https://www.google.com/url?sa=i&rct=j&q=&esrc=s&source=images&cd=&ved=0ahUKEwj6g_-zsNPPAhXDKCYKHTKCD0MQjhwIBQ&url=http%3A%2F%2Fwww.eurosport.com%2Ffootball%2Fpremier-league%2F2015-2016%2Fpremier-league-unveil-new-logo-with-fresh-take-on-lion-image_sto5169579%2Fstory.shtml&bvm=bv.135475266,d.eWE&psig=AFQjCNELI-XVurZYDjkh17LzdCRKqqf9Rg&ust=1476296810160544
https://www.google.com/url?sa=i&rct=j&q=&esrc=s&source=images&cd=&ved=0ahUKEwjFjevXsNPPAhWBRSYKHe3iA_oQjhwIBQ&url=https%3A%2F%2Fwww.pinterest.com%2Fpin%2F422282902532236970%2F&bvm=bv.135475266,d.eWE&psig=AFQjCNFGGlruBFzb3pt3Ta4XuJbd0932YQ&ust=1476296907850683