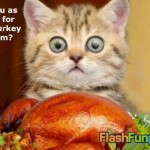 Thanksgiving is one of my favorite holidays because I get to see my family.  Some of my family lives in Fostoria, Ohio.  Every year we visit them and have an amazing meal. Usually we have of course turkey, stuffing, green bean cassarole, macaroni and lots of other delicous foods. I love to be able to spend time with my family that lives far away.  A lot of my relatives from my Dad's side live in Fostoria.  All of my aunts, uncles and my grandma and granpa gather at my grandparents house to talk and enjoy the food.
I really enjoy getting to see my family. My Aunt Kim is so much fun to be with and we have the same artistic talents.  Also I have an Uncle Dave that is my Dad's brother, they definitley don't look anything alike but they sure act the same.  Ryan is my cousin's name and he is so much fun.  Ryan is in college and goes to Michigan State but my brother and I have always been close to him no matter how much older he is. Finally my Grandma and Grandpa are my Dad's parents and I love them so much because they love to spend time with my brother and I.  I'm so thankful to have all the wonderful relatives that I have and to be able to spend time with them.
Well I absolutley love Thanksgiving (not as much as I love Chrismas though) and all the things I do on that holiday. It is really nice to be able to see all my family that lives out of town. But remember be thankful for all the things you are able to have because even if you don't think so other people might not have the blessing to have what you have.
Hey there I hope you enjoyed my post about what my Thanksgiving is like!!  I would LOVE to hear about what your Thanksgiving is like and what you do on that day.  Please go to the comments and tell me all about your Thanksgiving and I be happy to reply and read your comments.  Wait…Don't forget to give me your URL so I can check out all of your amazing posts!!! Bye don't forget to comment! 
This image is from: http://flashfunpages.com/ecards/wp-content/uploads/2013/11/Thanksgiving-turkey-ecard.jpg