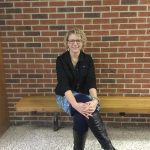 So today I interviewed a teacher who loves Disney World from McDowell Middle School.  The teacher that I interviewed was Mrs. Caudill.  Mrs. Caudill is actually grading this, because she is the advanced language arts teacher, and the normal language arts teacher.  The reason why I picked Mrs. Caudill for the "Featured Staff Member" is because she always has a smile on her face, and one time she let us drink coffee and eat donuts while watching a movie!  Also, when the Mannequin Challenge was popular she let us take a video about it!  So you are probably thinking that Mrs. Caudill is a cool teacher, and you want to know more about her.  Well, if you do then stay, but if you don't, then also stay.  Here are some questions that I asked Mrs. Caudill:
Q. How long have you been teaching?
A. 24 years .
Q. How many children do you have?
A.  Two daughters and one dog that I call my boy.
Q.Where did you go to college and how long did you go there?
A. I went  to "Ohio University" and got my Bachelors there, and I went to "Marygrove College" and got my Masters Degree.
Q. What other jobs did you have? (I was shocked on this one)
A. Actually,  I am A Disney World travel planner.
Q. What was your favorite subject in school?
A.My favorite subject was language arts and social studies
So you can clearly see why I chose Mrs. Caudill as "Featured Staff Member."  She is funny and really smart, and she tells us stories about when she was younger, also she always has a smile on her face.  Even though she lets us eat and do fun stuff, we still get the work done.  That is why I choose the Disney loving Mrs. Caudill to be the "Featured Staff Member."
This is our Mannequin Challenge video: http://mcdowellmedia.edublogs.org/2016/11/17/mannequin-challenge/