By: Lane
   The Logan Elm middle school and high school band were going to perform for the students and staff at Laurelville elementary, one of three elementary schools in the Logan Elm school district. On Friday, October 26, the band members at McDowell middle school were going to leave the building at 12:15, and miss most of their afternoon classes to go to Laurelville, for the performance. (I am in the band, and I play the saxophone, and was going to miss most of math, my least favorite class, and most of language arts with Mrs. Caudill)
   The plan was for the band to march down the streets in the parade at Laurelville, play our music, while marching in a big circle, much like the parade at the Pumpkin Show, a fall festival that takes place in Circleville Ohio (which you can learn more about on McDowell Media) Every year, the middle school and high school performed in the parade, and we were going to do the same again this year too, and I was excited, because that day we had an assembly, which altered our schedule, meaning no math that day! It would be amazing…Unless it didn't happen.
    That day was a disappointing day for everybody in the middle school band. It rained that day, and as many know, you can't bring an instrument into the rain, without damaging it. The auditorium at Laurelville is not very big, so there was only room for the high school band to perform. So the middle school stayed at school. I had to go to math too.
     So that's about it. I would have had more to say about what we did at the parade, I would have given more details, but I couldn't, because the middle school was not in the parade. Though, the high school reportedly played very well. The image below is from the Logan Elm Twitter page.
Thanks for reading, and check out the other authors of McDowell Media.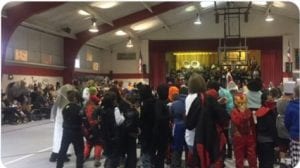 The lies! At least for us in middle school. Congratulations to the high school. It wasn't much of a parade, but it was a good performance nonetheless.