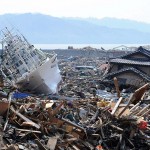 Shane and Marek did not expect their regular walk to the store to end in disaster. Both boys knew tsunamis were not very rare in the coasts of Japan and were tuned in the weather station. But the tsunami they were about to witness was the worst tsunami in the world.
Marek went up to the market and bought two vegetable bean cans. Then the tsunami came. Buildings were destroyed, people were stuck in cars. Marek suddenly bolted out of the store and jumped on a ladder that took him to the top of a skyscraper. But where was Shane?
Shane was stuck inside the store, when he laid his eyes on Marek. The glass building that Marek was hiding  in was shattering. Shane needed to get to his friend, but he was on the other side of the massive tsunami. But the question was: how?
Shane didn't know what to do.  How could he get to Marek in time?  He was all the way over in that building!  But Shane did know one thing; he was going to save his friend.  He looked at the oncoming tsunami.  It may have been scary, but so was the idea of losing Marek. It was going to be almost impossible to save his best friends life.
You decide: how should the story end? Comment below!
Picture link- http://www.latimes.com/world/la-fg-japan-tsunami-before-after-slider-htmlstory.html